Meet Bruce
Expertise: Property, investment and superannuation expert, financial adviser, mortgage broker, best-selling author, syndicated columnist, TV talent
Bruce Brammall is simply passionate about sharing his love and knowledge of finance as broadly as possible – via any medium.
As his Twitter handle states, his aim is to "improve finances globally – one book, one meeting, one column, one conversation, one presentation at a time".
Bruce spreads the "good word" as a nationally syndicated finance columnist and best-selling author, as well as to clients of his financial advice and mortgage broking businesses through Bruce Brammall Financial.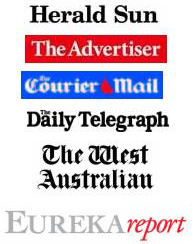 In 2007, following 15 years with Melbourne's Herald Sun newspaper, including four years as deputy business editor, Bruce left journalism for the world of financial advice.
But not completely. He writes weekly columns, including for News Limited's daily papers in the Your Money section, Alan Kohler's Eureka Report, where he is superannuation editor, and The West Australian.
In late 2008, just as equity and property markets were imploding and the Global Financial Crisis was starting to be unveiled, his third book, Debt Man Walking, hit book shelves. Debt Man Walking is a blueprint for how Generation X should design their finances during the crucial period for their earnings in their 30s and 40s, with humorous pop-culture flashbacks to growing up in Australia in the 70s, 80s and 90s.
The reaction to the book was overwhelming and Bruce Brammall Financial (then known as Castellan Financial Consulting) was launched in February 2009.
Bruce's sixth book title, Mortgages Made Easy, hits bookstores on March 1, 2015, and
is a Debt Man-style how-to book for home and investment property buyers, to help ensure they make the most of the debt they will necessarily take on with that purchase. Mortgages Made Easy teaches people to "learn to love their mortgage".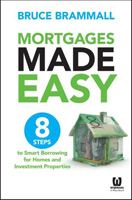 Bruce is also an expert on property investment, which is evident in all of his books, five of which are solely about buying real estate, either as homes or for investment purposes. His blended property and lending knowledge also saw him appear about a dozen times on Channel Ten's home renovation show, The Home Team (representing realestate.com.au). He is also sought by current affairs shows, including A Current Affair and Today Tonight, for his ability to decipher often complex financial issues into everyman's language.
The other book titles written by Bruce:
The Power of Property (2006, Wrightbooks)
Investing in Real Estate For Dummies (2008, Wiley Publishing)
Property Investing For Dummies (2013, Wiley Publishing)
Getting Started In Property Investing For Dummies (2013, Wiley Publishing)
Debt Man (aka Bruce Brammall) can be hired to talk to your company, your guests or your clients about Generation X and their financial needs. Bruce is an entertaining and authoritative speaker, who is strong on simplifying complex financial topics.
If you've got a Gen X audience, Bruce can make them remember how they grew up - possibily in more detail than they really want to - while making sure they get the message about how some very simple rules can get them started on the road to riches. Generation X's needs are very different to the generations on either side (Boomers and Gen Y), both in Australia and globally.
If you would like to inquire about getting Bruce to speak at your next function, then please fill out our online form. Please give details of the sort of event it is, where it is and we'll endeavour to contact you shortly.
Upcoming Event

No Events Available
Mortgages Made Easy
What every property purchaser needs to know about mortgages